ThisMagicShop
BTS RM Moonchild Foil Print
Regular price
€3,50
€0,00
Unit price
per
Tax included.
Shipping
calculated at checkout.
FREE SHIPPING with orders over 15€!
------------------------------------------------------------
WHAT DO YOU GET?
Moonchild Set: 1 Foil print + 1 waterproof sticker
OR
1 Foil print
------------------------------------------------------------
2 different metallic foil colors to choose from printed on black paper 200 gsm
Size: A5 148x210mm | 5.8 x 8.3 inch
Due to the holographic/metallic nature, colors shift due to angle and lighting
Two years ago, Namjoon shared a part of himself in the form of Mono. It didn't expect an album to have such a huge impact on me, but it did - His incredibly meaningful lyrics gave me a lot of comfort and I think it was the same way for many other Armys, and for that I am thankful. Mono genuinely is a healing experience, so happy two years to this masterpiece 🤍
Moonchild especially touched my soul, it's my favourite song of the release.
 SHIPPING:
If you wish to order more than one sticker, your shipping cost does not increase so feel free to order as much as you like! Shipping is Standard POST. (Does not include tracking) Decal arrives in a standard envelope.
Shipping does not include tracking in order to keep the prices down. I am not responsible for lost or stolen items. If you'd like your item with tracking, please select this option at the checkout. A package with tracking is 4,35€.
---
Customer Reviews
Martina M.

Czech Republic
03/08/2021
Beautiful!
First of all, the packaging is really awesome, I was almost sorry for opening my print!! The print is beautifully made, really good quality and waterproof sticker is really cute. Shipping was fast and communication was without a problem also. I highly recommend this shop, thinking of purchasing again.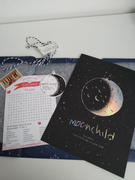 Kim s.

Belgium
02/05/2021
Moonchild
Beautiful print that in glad to have. Got a really nice email thanking me for my second time purchase. Great updates on shipping and lovely packaging.
Jessica S.

United States
02/04/2021
Such a nice design!
I have bought multiple items from this shop and all have been great quality and arrive safely. Jun is super easy to work with if you have any questions. Highly recommend this shop.
Akrivi P.

Greece
12/03/2020
I love it!!
I love it!! It is super cute and i am in love with because it's holographic